PHUKET DENTAL NEWS UPDATE
---
Thailand's Best Dental Provider in Asia Pacific Global Health Awards 2017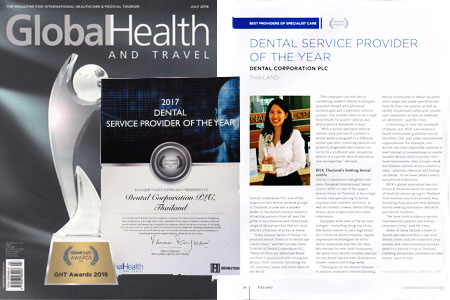 Dental Corporation Co., Ltd. the Asia Pacific's Global Health 2017 Awards recognize the best hospitals and specialty providers in Asia for the 2nd consecutive year. Dental Corporation dental clinics which manage Phuket Dental Signature has received the Top Dental Provider of the year Award in both 2016 and 2017.
Read More
BIDC Dental clinics featured on Australia National Television Series
Mid this year, Australian reality television series Operation Thailand screened during prime time on Channel Nine Network featuring Australian patients travelling to BIDC and its dental clinics for dental makeover transformation with porcelain veneers that documents and follows their journey on considerations for dental tourism.
Read More
Thailand: TOP 10 Dental Clinics in 2018
According to the #GCR's latest analysis of TOP 10 #DentalClinics2018 in #Thailand, Bangkok International Dental Center ranks as the leading clinic in Thailand, when it comes to overall international clinic reputation. A total of 555 dental clinics were included in the study.
Prestigious Prime Minister's Award - Best Provider Health & Wellness on Dental Tourism
Dental Corporation Co., Ltd. is the FIRST and ONLY dental clinic network in Thailand to recieve the prestigious Prime Minister's Export Award for Best Service Enterprise Award for Health & Wellness. Leading the way as Thailand's number one dental tourism exporter in providing excellent quality services to international patients.
Read More