DENTURES & IMPLANT DENTURE TREATMENTS
---
What are Dentures?
Dentures are a set of replacement teeth or false teeth worn to replacing missing teeth, Partial dentures are used to replace single or multiple missing gaps. Full dentures, compoete dentures or overdentures are used to replace full jaw missing gaps.
Benefits of dentures
Dentures prevent adjacent teeth from changing position and moving into the empty gaps as well as maintain a persons facial profile. Dentures provide better outlook appearance as missing gaps are covered with new teeth.
Types of Dentures
Dentures may be made of a metal or acrylic resin that is a plastic-like material molded to fit to the shape of a person's mouth.
1) Acrylic Dentures
Acyrlic dentures are plastic dentures holding false teeth on the plate. Both partial and full dentures may be made of acyrlic resin materials.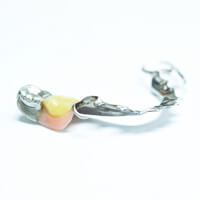 2) Metal frame dentures
Metal frame dentures are dentures that have a metal framework with false teeth placed on the metal frame. Partial dentures may be made from metal base frame as a longer lasting solution.
3) Full Dentures
Full dentures are removable prostheses and may slip and slide. Dental implants may be used to help retain dentures in place. The dental implants are posts whereby the full dentures may be fitted over in holding down the dentures down securely.
1) Implant Dentures
Dental Implant Dentures uses conventional dental implant posts and are long-term treatment solutions. A locator, ball or bar may be placed over the implant posts. The complete dentures has a a socket on the reverse in securely locking the full dentures in place over the locaor, ball or ball..
2) Locator Mini-Implant Dentures
Locator Mini-implants uses the same concept as conventional implants with a locator attachment over the implant posts. Locator mini-implants are however thinner and smaller. The locator mini-implants can normally be completed within one trip and follows an immediate function concept. Locator mini-implants have a separate locator head component that may be replaced should it be worn down over time.
3) Mini-Implant Dentures
Mini-implants is a one piece small size and thin implant posts embedded into the jaw. The mini-implant has a ball head that holds the dentures in place. Mini-implants are medium term solutions that may require replacement should the head be worn down over-time.
Related Dental Implant Links